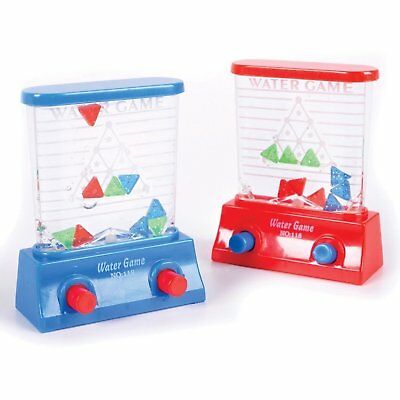 Water Handheld Games - Aqua Mini Pinball Arcade Toy, Party favors, Travel Toys, Teachers and Therapists Reward and / or prize, 1 piece (Assorted Colors)
#1 TOY: Perfect for Travel, Party Favors, Giveaways, Prizes, Rewards, Stocking Stuffers, Special Needs, Therapy, Stress Relief & so much more!
FANTASTIC MOTIVATOR: This toy is an old favorite that will also keep the new generation ENTERTAINED FOR HOURS! Whether in a MEETING or in a CLASSROOM, this will keep you motivated!
PERFECT PARTY FAVOR: These are perfect as Party Favors or Giveaways. These classic Water Ring Toss Game with a twist, are fantastic Party Favors or Giveaways for children and adults!!
GREAT FOR ALL AGES: No more making yourself crazy for DIFFERENT party favors for CHILDREN and ADULTS!!! This one is GREAT for all ages!!
EASY TO USE: They're SIMPLE, FUN and EASY to play with. Just Press the Buttons to raise the triangles to their right position. Lots of fun, NO MATTER THE AGE!!!
Mini Handheld Water Arcade Games Are Plastic And Approximately 3.25 Tall And 2.75 Wide. All You Need To Do Is Push The Buttons To Propel The Rings Or Balls To Play. This Toy Will Also Build Your Hand Eye Coordination. Assortment Includes One Game In Assorted Colors. Perfect For Travel, Party Favors, Giveaways, Rewards, Prizes And Much, Much More!