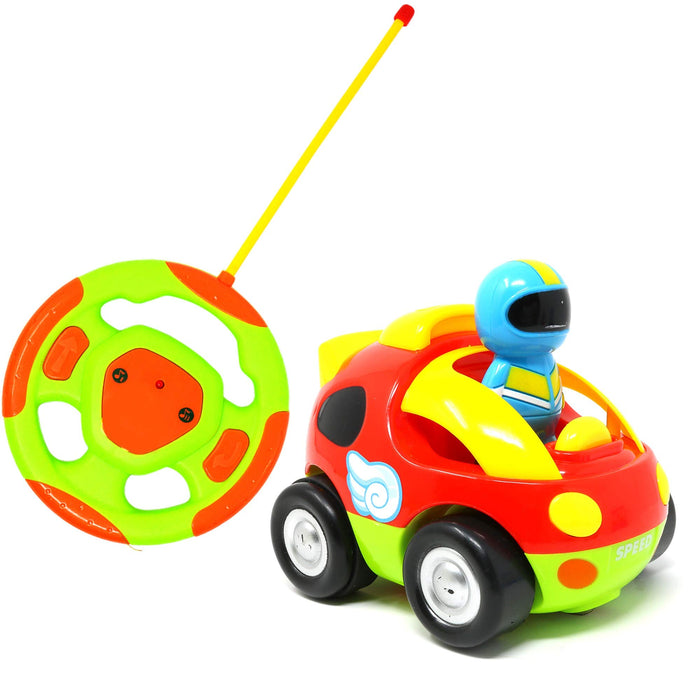 Remote Control Car For Toddlers - Kids Rc Cartoon Big Mo's Toys Race Car – Beginner's Remote Control for Toddlers and Kids with Sounds, Music, Flashing Lights and Removable Driver Action Figure
FAST & FURIOUSLY FUN: Sleek wheels and cool design make for a super fast and fun toy. Watch your child race along with it to see who is faster! Great for toddlers and babies 36 months and up.
STIMULATING EXPERIENCE: The toy car has lights and sounds to keep your children engaged and excited as they play flashing headlights, realistic car sounds like honking, and much more.
REMOVABLE DRIVER: The car comes with a removable racecar driver figurine that your kid can put in the driver's seat or play with on its own for even more imaginative excitement during playtime.
EASILY CONTROLLABLE: Designed as a child's first remote control toy, this cartoon car comes with a steering wheel shaped RC controller with only 2 buttons: forward and reverse. It couldn't be simpler!
THE PERFECT GIFT: Great for boys and girls, this toolset is an awesome present, prize or reward for any occasions, including birthdays, Christmas and holidays. Also great for preschool & kindergarten classrooms.
Remote Control Cartoon Car for Kids is bright, colorful and exciting! It is perfect for young children and toddlers beginning to play with remote control toys for the first time. To ensure that small children can easily maneuver the R/C car, the remote has been crafted with big simple buttons allowing it to drive left, right, forward and reverse. Additionally, with the press of a button the car will honk and play music while the headlights are blinking. Our RC car comes with a cute race car driver figure that the child can take out and play with. The remote has a soft, plastic antenna with no sharp edges, so you can be assured that your child / toddler will stay safe with this kids friendly, nontoxic toy. Please Note: Batteries Are Not Included. Big Mo's Toys items are made of High Quality materials that are Non-Toxic and Tested to ensure your child's Safety.