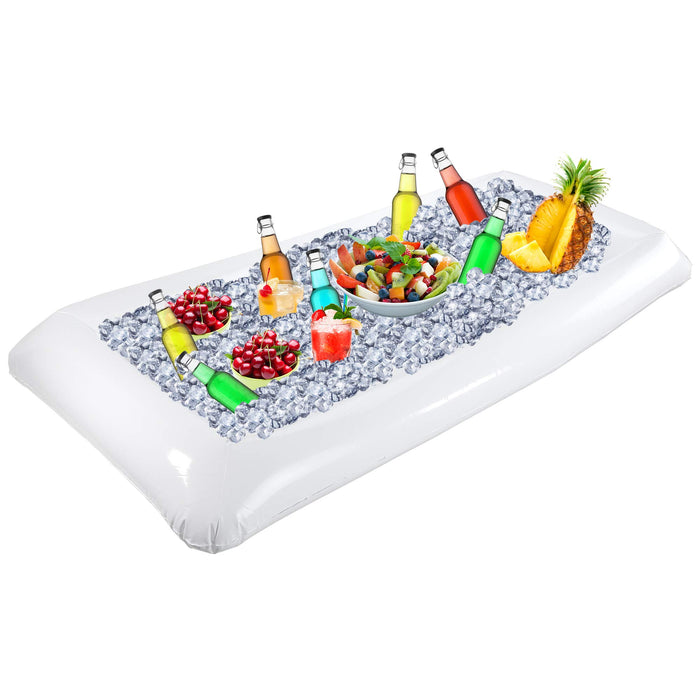 Outdoor Inflatable Buffet Cooler Server - White Blow Up Cooling Tub For Serving Buffet Style Picnic
Food Cooler is ideal for keeping buffet style food and drinks cold at a party.
This cooler is 28" wide and 54" long when inflated but can be deflated and packed to be 12" x 10".
This item is a perfect beverage and salad tabletop coolers for parties in Spring, Summer and Fall.
It is the perfect ice tray that floats, so it can be great for a bbq cookout for any pool party.
Big Mo's Toys items are made of High Quality materials that are Non-Toxic and Tested to ensure your child's Safety.
Iced Trays are the ideal supplies needed for any Summer party. It can be great for a graduation party in June, a pool party in the Summer, a Labor Day party in the Fall or a birthday party anytime. It is also perfect for a Wedding, an Anniversary, for Valentines Day, or for a spouses birthday party. It is ideal to take along when going camping, where a buffet style picnic is required. It can easily hold many items due to its big size. There can be large bowls of salad, a taco bar, condiment containers, and beer. These are the perfect accessories for a family reunion buffet, a wedding, an adults only event, or just instead of ice buckets. Platters can easily be displayed on the ice and will add to the cool decorations of the party. These inflatables float well and can be put into the water at a pool party. These are also perfect for catering chilled foods at a chillers football party. Any drink can be added to the cooler and this cooler will look very cool on a table top or on the grass. This buffet doesn't include a cover, but can easily be covered, like any other platter buffets, with a disposable tablecloth. This is the perfect buffet to display fruit, dip, snack and any type of drink. It is also great for portable bars.