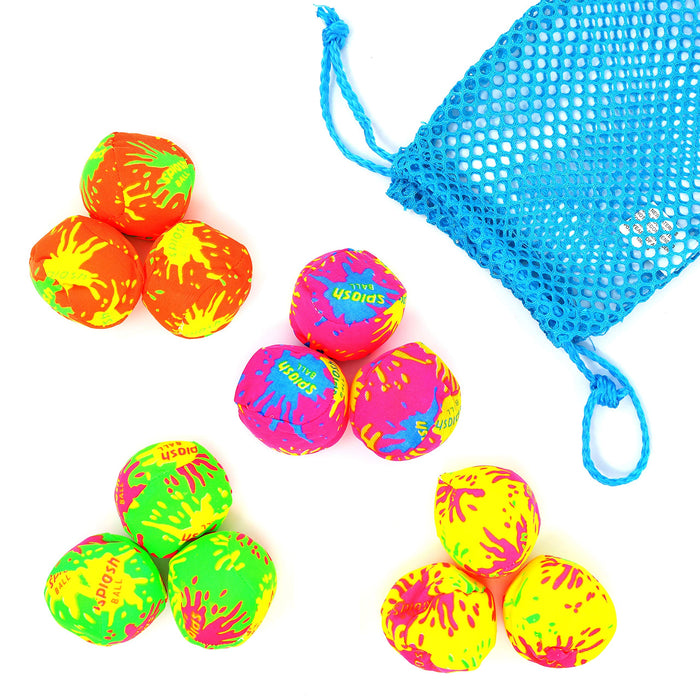 Splash Balls - Neon Drawstring Mesh Bag and Cool Water Balls for Pool - 12 Pack Set
2 Bath and Pool Balls are super fun toys and accessories for the hot summer pool parties.
The balls come packed into a 6.5 mesh bag for easy storage that allows the balls to dry quickly.
Let the ball soak up the water then watch it squirt all over! This pool toy will have everyone wet and laughing!
Great for a summer party favor for girls and boys of all ages, including toddlers, kids, teenagers, and adults.
Big Mo's Toys items are made of High Quality Durable materials that are Non-Toxic and Tested to ensure your child's Safety.
Water Balls are ideal for everyone even small children. They are great for playing games and sports while swimming in the beach or pool. It can also be used for fun, wet, outdoor activities. These balls are of neon colors, blending right in with the summer theme. These are perfect for any game you would like to play with babies and adults on an aqua themed day. It's especially good as a swim or dive toy. They are sold a dozen balls with a mesh bag. The balls fit in the mesh and it allows for the balls to dry quickly even when they are inside the bag. They are great for use indoor as a party decoration or for goodie bags. These will also be a great pool toy for your dog and puppy and will keep them safe.