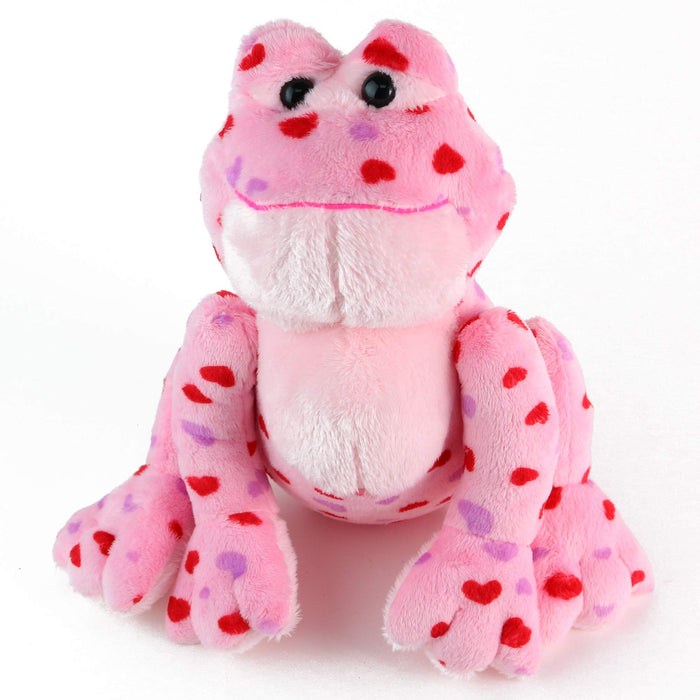 Love Frog - Plush Valentine's Day Pink and Red Heart Printed Small Stuffed Frogs Animals for All Ages
Valentine's Day Toddler Kids and Adults large frog animal makes an ideal gift and toy.
It can sit on its own, and while sitting, the frog is 8.5" tall, has 5.5" legs and 5.5" arms.
This cute squishy plush frog makes great Valentine's Day gifts for friends, lovers, family and kids.
This frog is a great party and home decoration for Valentine's Day, anniversary, bridal shower, etc.
Big Mo's Toys items are made of High Quality materials that are Non-Toxic and Tested to ensure your child's Safety.
Teddy Bears Decorative Love Frog is the perfect plush toad for any girl or boy. It can be a stuffed animal gift for a baby or toddler, no matter if they are girls or boys. These stuff can be given to any little kid that likes girly fairytale toys. The frog can sit on its own and is a pretty cute bear to add to your stuffed animal collection. They can be used as decorations in a kid bedroom along with doll figurines and other beanie toys. This frog can be given as a crazy dog toy or as a gift to make anyone happy. It can be given for Valentines Day for a lover to be kept as décor in the room. This frog sits nicely on display and will not tip over. It is also not wobbly and won't tip over nearby figurines, no matter how tiny or giant they are. This is a great gift to give that shows love. It is sweet and will get your lover excited. It is a cute decorative piece for around the house or on the windshield of your car. This frog bear can be used for Valentines Day, an engagement gift, an anniversary present, or just to show love. This cute gift is cheap and always appreciated!