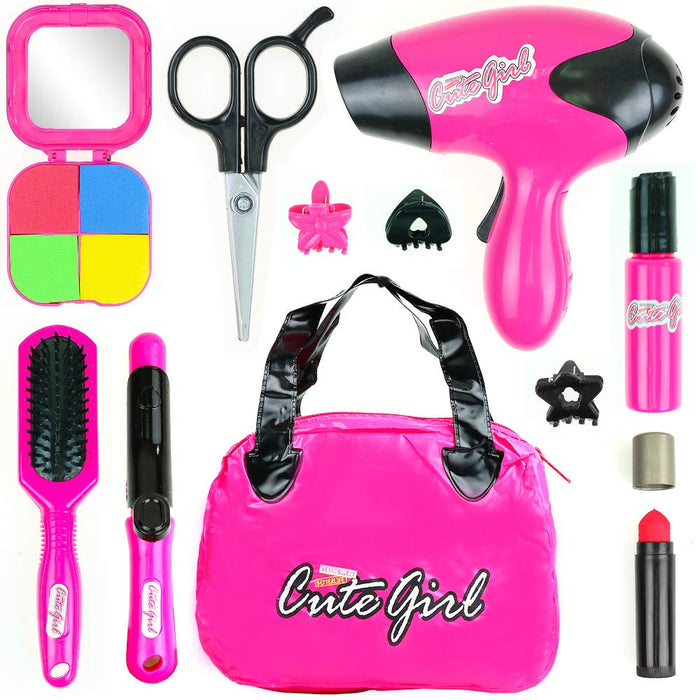 Kids Beauty Salon Set, Stylish Girls Beauty Fashion Pretend Play Toy with Cosmetic Bag, Hairdryer, Curling Iron, Blush Pallet with Mirror, Lipstick & Styling Accessories, 12 Piece Set
This 12 piece set will result in hours of pretend play hair styling!! Your kids will love to beautify themselves and everyone around them!! This is a hit of a playset among young girls!!!
Beauty Salon Set includes an electric hair blower, curler, hair scissors, comb, eye shadow, lipstick, hairpins, toner, and a cute pink cosmetic bag.
FANTASTIC way to encourage CREATIVE, IMAGINATIVE Play and develop FINE MOTOR SKILLS, Social Skills and Practical Life Skills. It will also boost LANGUAGE skills and let their imaginations grow!!
This set is perfect for a birthday present, Christmas gift, playroom toys, rewards or just to put a smile on your little princesss face.
Your little princess will spend hours BEAUTIFYING herself with this CHILD SAFE set. It is made of HIGH QUALITY plastic materials. blow dryer is NONTOXIC and Blows Cool Air.
Cute Set Of Beauty Accessories For Girls Pretend Play, This Is The Perfect Kit For Every Little Princess! This Big Mo's Dazzling Kit Includes A Stylish Hot Pink Cosmetics Bag, Hard Durable Plastic Blow Dryer, Curling Iron, Hair Brush, Lipstick, Powder, Scissors And A Bottle. The Items Are Big Enough For Every Little Girl, Ranging From 2 Years To 6 Years To Old With No Trouble. Your Child Will Now Be Able To Put Her Own Makeup And Set Up Her Own Hair-styling Sessions With NO MESS. This Beauty Set Will Allow Children To Build Their Imagination And Creativity In Many Ways. Child's Self-Esteem Will Grow When She Does Style After Style, Making Herself Beautiful In Her Very Own Way. Prepare To Have Your Little Princess Entertained For Hours!!