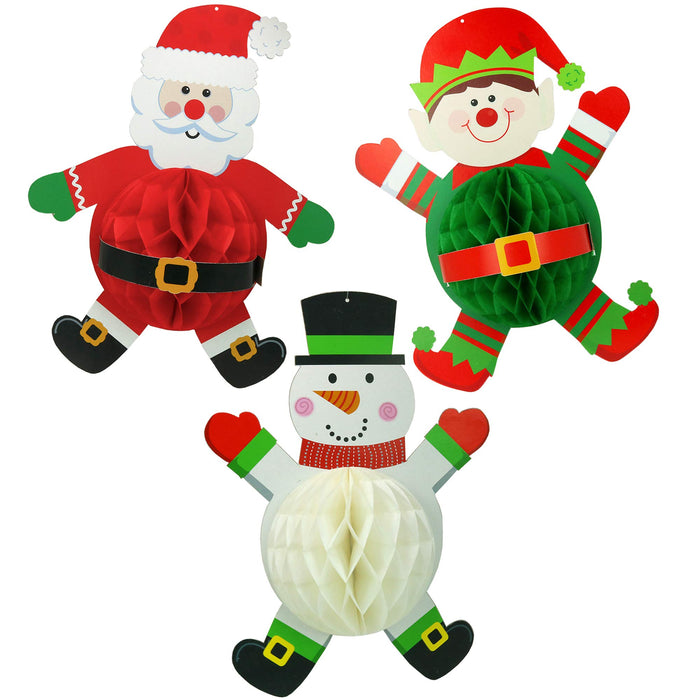 Hanging Decorations - Santa Jester and Snowman Honeycomb Christmas Home Decor - 3 Pieces
Holiday Decoration Pack includes 3 honeycomb Christmas figures that can be hung around the house.
Each figure measures 14" x 10" x 5 and can be easily hung up by punching a hole on the top of each figure.
Looks ideal in the living room, kitchen or near the fireplace, and will add a Holiday touch to the atmosphere.
This decoration set is ideal for bringing some Holiday vibes into an office, classroom, or club house.
Big Mo's Toys items are made of High Quality materials that are Non-Toxic and Tested to ensure your child's Safety.
Small Hanging Men Set includes a snow man, jester, and a Santa Claus. They can be hung easily by making a hole punch at the top of the figure and attaching a string. This set would look very cool hanging over the mantel, in the living room, or hanging near a window. It is also ideal for dressing up a classroom, office, or club room to give it the Holiday vibes. Big Mo's Toys items are made of high quality materials that are non-toxic and tested to ensure your child's safety.