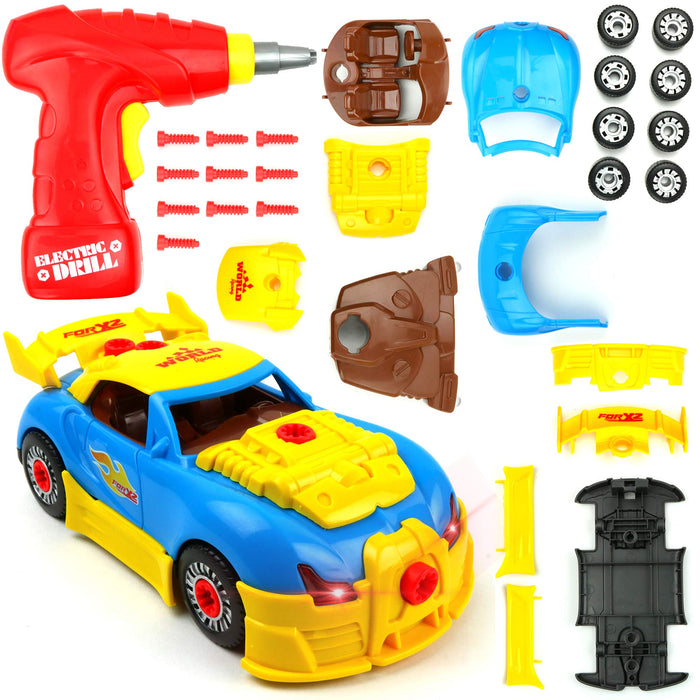 Build Your Own Race Car - STEM Toy Racing Car for Kids Gift
Boys and Girls Building Cars Toys are ideal learning gifts for kids who love puzzles.ys Build Your Own Racer is the perfect present for any girl or boy of any age.
The kit includes all parts and pieces to put the puzzle car together, and a battery operated drill.
This makes great kid presents for Christmas and birthdays for any boy or girl ages two to eight.
The lights and sounds will help improve your child's fine motor skills in an entertaining way.
Big Mo's Toys items are made of High Quality materials that are Non Toxic and Tested to ensure your child's Safety.
Construction Car is a great toy for any 2 year old to 8 year old toddler or kid who loves to play with puzzles and tools. This race care is made to entertain children for a while. It is a great gift idea for a birthday, or for a three, four, or five year old who enjoys putting things together and playing with trucks and cars. This cool toy has some little pieces so it should be kept far from a crawling baby. The car comes apart completely, including the wheels! This new toy kit will have your kindergarten kid entertained for hours. It is a top best seller item and is part of the stuff that will make you wonder what your child is up to because he is quiet for too long. It is a good idea to keep these kits in boxes so pieces don't get lost. The drill tool uses 2 AA batteries that are not included. The lights and sounds on the car use batteries that are already installed in the car. To turn on the lights and sounds, there is a switch on the bottom of the brown car base. It is easy enough for little fingers to feel and switch! This toy is a favorite in every child's toy box and he or she will love to play with it!