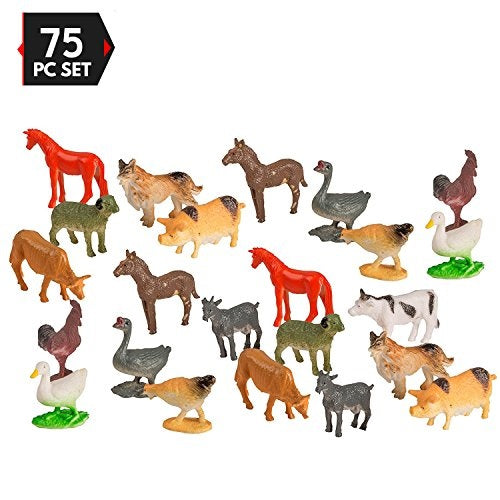 75 Piece Party Pack Mini Farm Animals - Plastic Mini Educational Animal Toys - Fun Gift Party Favors
#1 Rated Farm Animal Assortment. - Plastic Mini Animal Toys - Fun Gift Party Giveaway.
This Is A 75 Piece Farm Animal Assortment.
These Plastic Mini Farm Animal Toys Assortment Is 2" to 4" In Length.
Made Of Highest Quality Plastic!
Great For School Education, Goody Bag Giveaways And Any Fun Children's Play!
Value Pack If you are looking for something to entertain your kids for a while, Big Mos Farm Animals will keep your child hooked. This value pack of child friendly toys is something your kids will love to play with! 75 pieces per pack will ensure your child doesn't get bored, and you will have enough pieces even if your child's friends come over. Its a great toy for children as young as pre-school kids up until 4th or 5th grade. This pretend toy is colorful and realistic looking due to the hand painting. It can also be used as a party favor, party giveaway, birthday gift, or even as a teachers visual aid. The uses are indefinite. In fact, the only thing that is definite, is that no matter who you give them to, they are a favorite! Item Qualities Hand painting adds a realistic touch to those pretend toy animals, making them look real. The vibrant colors used, together with the fact that your child will love to play with them, will ensure your child will remember the differences between similar animals. This educational toy is also great for city moms who dont have access to, or are too busy for an outing to the zoo; yet still want their child to know about the other living creations of this world. This item will teach your child so much about the world outside they know it, and will broaden their limited knowledge. About The Brand Big Mos Toys: "Where Children Come First" Big Mos Toys is the leading brand, bringing you high quality games, toys, favors, novelties and more. Our products are child safe, tested, and non-toxic.