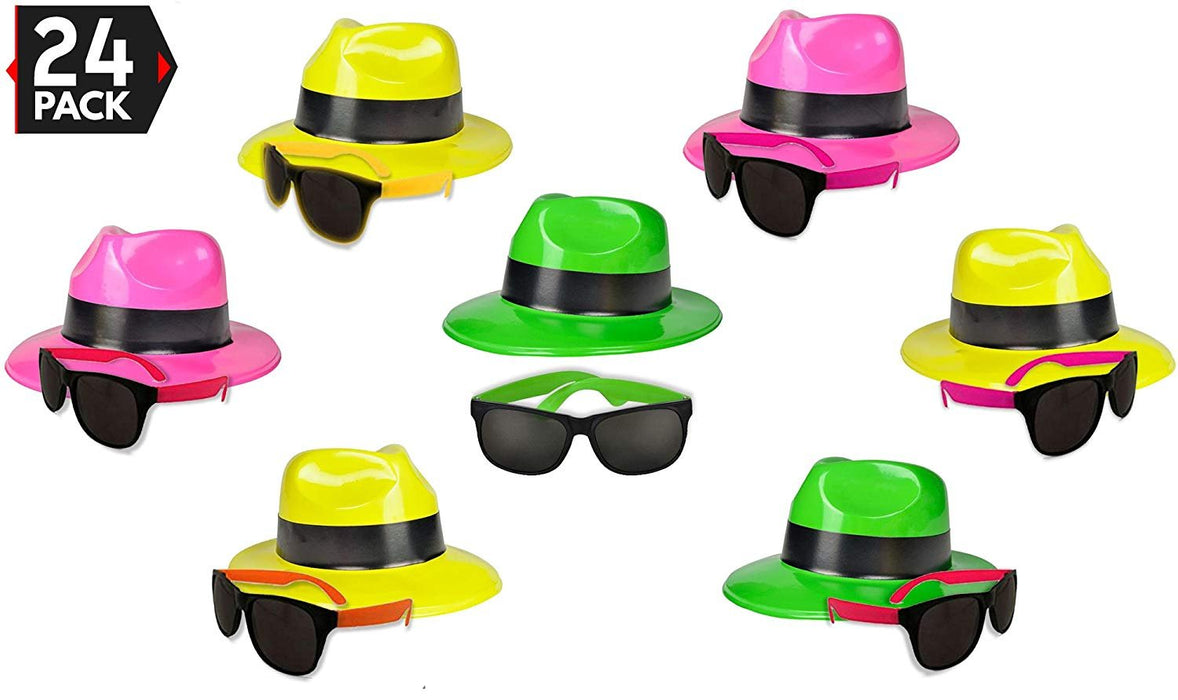 24 Neon Party Supplies Pack - Party Favors Assortment - 12 Neon Sunglasses & 12 Hats
#1 RATED PARTY PACKAGE! Suitable for Kids, Teens, Adults. HIGH QUALITY plastic!! Perfect for a themed party DRESS UP, Gangster Themed Party, Party Crashers Gear.
GREATEST HIT FOR ANY PARTY: Bring the house down with these! Fantastic set for any party! For Group Dancing; Dance Shows; Photo Booth Props; Night Clubs; Beach Party, etc.
INCLUDES: Big Mos Party Pack includes 12 sets of 1 neon GANGSTER HAT and 1 pair of neon SUNGLASSES. Colors may vary between Pink, Green, Yellow and Orange.
FANTASTIC PARTY FAVOR: Great for kids party favors!!! Give these out and the kids will be ENTERTAINED 'till way after the party is over!! They are made to be DURABLE for rough child play, yet they are CHEAP enough to be a Great Party Favor!!
GROUP THEME: These are FANTASTIC for group dressup on PURIM or HALLOWEEN!!! They are made of BRIGHT NEON COLORS, therefore are very FLASHY and ATTRACTIVE!! Just imagine the look of a large group of people all sporting this look!!
This perfect package of 12 plastic neon gangster hats and 12 sunglasses will be make any party a hit! Be it a summer party, beach party, pool party, birthday party, new years party, or just a DJ fun! They are super cool and can be given out as party favors which will please adults and kids alike! Additionally, this cool attire is ideal for photo booths, shows, and dance groups! The high-quality plastic used for this will ensure its durability. #1 rated party pack! Party Hard and have fun!