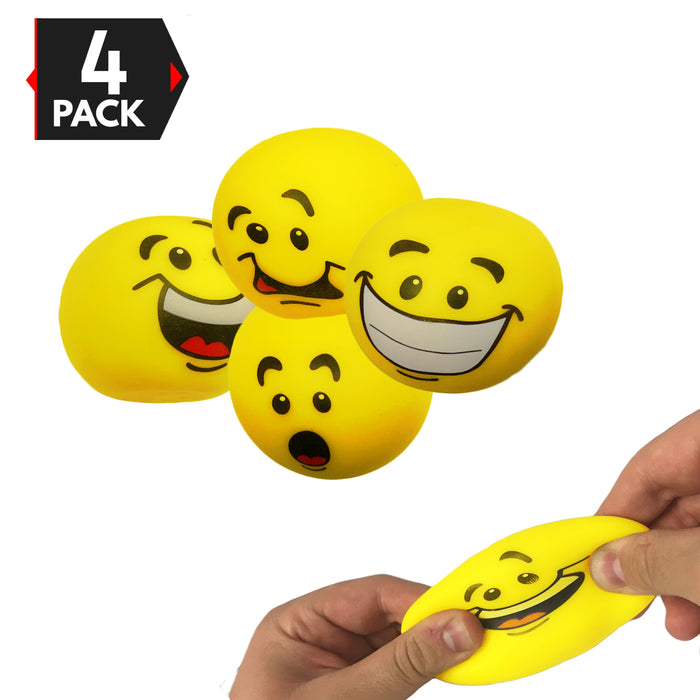 Stress Balls - Emoji Sensory Stress Reliever Fidget Toy Stretch Ball for ADD / ADHD - 4 Pack
2.2 " Rubber Squishy Anxiety Balls are therapeutic and perfect for sensory oriented kids and adults.
Ideal classroom and office toy for those with focusing and attention difficulties, like OCD, ADD, Autism, etc.
You can bend, squeeze, pull and stretch this ball for the foam material inside makes it the ultimate stress reliever.
Funny Emoji Face Designs are adorable for any adult or child and will help you stay alert and focused all day.
Big Mos Toys items are made of High Quality materials that are Non-Toxic and Tested to ensure your childs Safety.
Stress Relieving Favors are the best squish relievers, and a favorite among students, teachers, children, men, women, girls, boys, etc. They are mini stressballs with an emoticon on each one that will have any kid or student entertained. It is the ideal finger toy for kids who need to keep quiet and need to have their hands busy all the time, and the teacher will surely appreciate it! These antistress balls are great as goody bag prizes, party supplies for a birthday, a party favor, useful fidgets, Christmas Stocking Stuffers, etc. Great gifts for anyone who needs a strong stress relief outlet, deals with high anxiety, needs entertaining stuff for Church, or loves smiley faces toys. These are also cute for an emoji or gags laughs theme entertainment party and is sure to make everyone smile. Big Mo's Toys items are made of High Quality items that are Non-Toxic and Tested to ensure your child's Safety.